Meaning
My magic charm is working.
Origin
In the early 20th century mojo meant voodoo or magical power;
more recently this has been extended to mean power of influence of any kind. The term was widely used in the US black communities then and in 1926, Newbell Niles Puckett published this definition in his Folk Beliefs of the Southern Negro:
"The term mojo is often used by the Mississippi Negroes to mean 'charms, amulets, or tricks', as 'to work mojo' on a person or 'to carry a mojo'."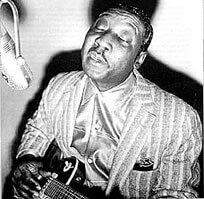 McKinley Morganfield, a.k.a. Muddy Waters, would have heard work mojo as he was growing up in Mississippi and used it in the title of his well-known blues classic Got my mojo working in 1956. This is probably the first time that the phrase was committed to record - either vinyl or paper.
Got my mojo working, but it just won't work on you
Got my mojo working, but it just won't work on you
I wanna love you so bad till I don't know what to do

I'm going down to Louisiana to get me a mojo hand
I'm going down to Louisiana to get me a mojo hand
I'm gonna have all you women right here at my command
Muddy Waters

april 4,1915- april 30,1983
Anyone who's followed the course of modern popular music is aware of the vast influence exerted on its development by the large numbers of blues artists who collectively shaped and defined the approach to amplified music in the late 1940s and early '50s. Chicago was the pivotal point for the development and dissemination of the modern blues and virtually everything else has flowed, in one way or another, from this rich source.
He was born McKinley Morganfield-Muddy Waters is a nickname given him in childhood-in the tiny hamlet of Rolling Fork, Mississippi, on April 4, 1915, but from the age of three, when his mother died, was raised by his maternal grandmother in Clarksdale, a small town one hundred miles to the north.
He broke with the country blues style by playing over a heavy dance rhythm, adopting the electric guitar, and adding piano and drums; he retained the moan-and-shout vocal style and lyrics that were by turns mournful, boastful, and frankly sensual. The result was the music that came to be known as urban blues
http://www.africanamericans.com/MuddyWaters.htm

http://shs.starkville.k12.ms.us/mswm/MSWritersAndMusicians/musicians/Waters.html